The latest powder X-Ray Diffractometer developed by GNR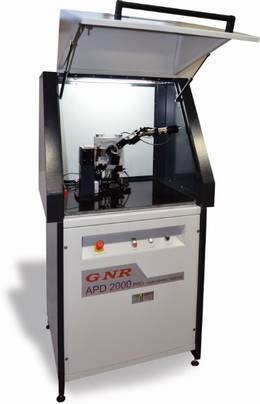 APD 2000 PRO diffractometer is an high power - Theta/2Theta - laboratory powder X-Ray Diffractometer equipped with all the most moder technical features which grant accuracy, precision, safety and easiness of use for XRD analysis of polycrystalline materials. 
Thanks to a wide offer of configurations and accessories such as high-speed detector, scintillation counter, high-low temperature and humiduty chamber, secondary monochromator, spinner and multiple sample holder, APD 2000 PRO is a powerful tool for powder diffraction applications such as routinary qualitative and quantitative phase analysis, non-ambient analysis, structure solution and refinement, crystallite size and degree of crystallinity calculation. 
High Speed Rate (1000°/min) 
High Precision Angle Reproducibility (+/- 0.0001°) 
Fast Measurement and Highly Reliable Data 
Extremely precise angular values thanks to stepper motors with optical encoders 
Easy to handle 
---
 APD 2000 PRO Key Features
Qualiltative and Quantitative Powder X-Ray Diffractometer
High Stability X-Ray generator through precision feedback control circuits 
Automatic ramp of the high voltage and emission current to preset values 
Ceramic X-Ray tubes with high reproducibility and stability of focus position
Microfocus tubes and policapillary collimators
Possibility of changing automatically from transmission to reflection mode 
High precision, high speed goniometer controlled by optical encoders 
Traditional, rotating, multi sample and capillary sample holders 
Scintillation counters, silicon strip and energy dispersive detectors 
Non-ambient analysis, low and high temperature chambers, humidity device
Technical Data
X Ray Generator
Maximum Output Power
3 kW (option: 4 kW)
Output Stability
< 0.01 % (for 10% power supply fluctuation)
Max Output Voltage
60 kV
Max Output Current
60 mA (option: 80 mA)
Voltage Step Width
0.1 kV
Current Step Width
0.1 mA
Ripple
0.03% rms < 1kHz, 0.75% rms > 1kHz
Preheat and Ramp
Automatic preheat and ramp control circuit
Input Voltage
220 Vac +/-10%, 50 or 60 Hz, single phase
Size
Width 48.3 cm, height 13.3 cm, depth 56 cm
X-Ray Tube
Type
Glass (option: Ceramic), Cu Anode, Fine Focus (options: any kind of X-Ray tube)
Focus
0.4 x 12 mm LFF (other options available)
Max Output
3.0 kW
Goniometer
Configurations
Vertical and Horizontal Theta/2Theta geometry
Measuring circle diameters
350 - 400 mm
Vertical Scanning Angular Range
- 60° < 2 Theta < + 168° (according to accessories)
Horizontal Scanning Angular Range
- 110° < 2 Theta < + 168° (according to accessories)
Smallest selectable stepsize
0.0001°
Angular reproducibility
+/- 0.0001°
Modes of operation
Continuous scan, step scan, theta or 2 theta scan, fast scan, theta axis oscillation
Variable Divergence slits
0 - 4°
Variable Anti-Divergence slits
0 - 4°
Variable Receiver slits
0 - 4°
Soller slits
2°
Detector
Type
Scintillation counter Nal (options: YAP(Ce); multistrip)
Countrate
2 x 10(6) cps (Nal); 2 x 10(7) cps (Yap(Ce))
Case
Dimensions
Width 850 mm, heigh 1680 mm, depth 750 mm
Leakage X-rays
< 1 mSv/Year (full safety shielding according to the international guidelines)
Processing Unit
Computer Type
Personal Computer, the latest version
Items controlled
X-ray generator, goniometer, sample holder, detector, counting chain
Basic Data Processing
Polynomial least squares smoothing. Fourier smoothing. Search for Peaks (automatic and manual). Spline background subtraction. Single peak analysis (area, FWHM, centroid, background). Marquardt fit (with pseudo-Voigt and Pearson VII curves, Ka2 contribution, weighted sum of squares). Sum and multiply by a constant. Scale normalization. Zoom. Graphical windows. Overlap and comparison of diffractograms. Multiview function. Cursor scan. Creation of graphic files .BMP. ICDD-PDF2 Card Overlap. Creation of calibration curves. Analysis of unknown samples. Qualitative and quantitative phase analysis. Rietveld analysis, crystalline structural analysis, crystallite size and lattice strain, crystallinity calculation
Applications
Qualitative and quantitative phase analysis, non-ambient analysis, retained austenite quantification, structure solution and refinement, crystallite size and crystallinity calculations. 
Geology and Mineralogy / Clays
Glass / Ceramics / Cement 
Chemicals / Petrochemicals 
Catalyst / Polymers
Forensics
Agricultural Sciences 
Biosciences / Environmental
Pharmaceuticals 
Cosmetics 
Art and Archeology
Request Quote / More Information: