Highly Reliable Perfomance with low cost of ownership and fast return on investment - Specific for Non Ferrous Alloys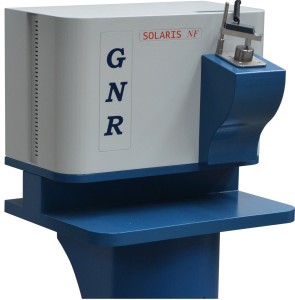 S4 SOLARIS CCD Non Ferrous (SCNF) is an optical multi-channel spectrometer. It is the perfect instrument for the routine analysis of non ferrous metals and alloys.
S4 SCNF is an high performance bench-top optical emission spectrometer for process control and the chemical analysis of non ferrous metals and alloys with an outstanding price - performance ratio. 
Multi High Resolution CCD Systems 
Reliable results with high repeteability 
Bench Top Compact Chassis (table available as optional) 
Easy to use 
Low Cost of Ownership
Thanks to its innovative design, easy of use and performance, this model has been higly appreciated by the market.
Available as bench-top or floor model.
Technical Data
 Optical System 
Optical Air System: Multi High Resolution CCD system with up to 16 CCD solid state detectors depending on specific application
High luminosity holographic grating
Source: Multi-frequency spark source. Excitation parameters controlled by computer
---
  Other Information
Power Supply: 110/220 V AC 16 A 1 KW
Dimensions: W 60 x D 45 x H 50 cm
Weight: 50 Kg (w/o stand)
Applications
Non Ferrous Metals and their alloys 
Al: wrought alloys, casting alloys, ...
Cu: bronze, brass, cupronickel, ...
Mg and Zn alloys
Request Quote / More Information: